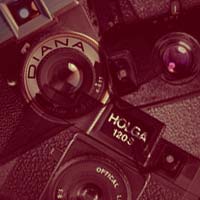 The Toy Camera Story
Written on Tuesday, July 12th, 2011 in
Articles
The year is 2011 and all thing analog have never been so popular! Vinyl sales went up with a whopping 41% since last year and probably everyone who's got an i or smartphone, has a retro camera app installed. But where do those "retro" effects come from and what's all the fuss about toys cameras?
THE DIANA
Specifications
Film Format: 120 Medium Format
Lens: 75 mm Single Element Plastic Lens
Aperture: f/11, f/13, f/19
Shutter: Rotating Lens Shutter 1/50 ~ 1/100 & Bulb
Focus Modes: 3 Step Zone Focus
Our story begins in the early 1960's, in a toy factory called the Great Wall Plastic Factory of Kowloon, located in Hong Kong, China. They created a compact toy camera made almost entirely (like the name of the factory suggests) out of plastic, called the Diana. Little did they know that their little toy would launch an art movement.
The Diana is famous for its highly unpredictable behavior. Shutter speeds and aperture that differ from camera to camera. Plastic lenses that produce blurred photo's with strange colors and not enough contrast. And light leaks from the poorly constructed body.
The light leaks can be easily avoided by covering all seams with a light proof tape, after loading the film (but why would you do that?).
A lot of people tried to copy the Diana. Some did very well, others funnily enough made the camera too good. And when I say a lot, I really mean a lot! Acme, Anny, Altic, Arrow, Arrow Flash, Asiana, Avis, Banier, Banner, Barri-Shelli, Bergère- de France, Binaflex, Black Bird, Candy, Chase, Clicker, Codeg, Colorflash Deluxe, Debonair, Debro, Debutante, Diana, Diana Plus, Diana Deluxe, Diana F, Diana F+, Diana Mini, Dionne F2, Dories, Eikow, Flocon RF 222, Future Scientist Flash, Gray Line, Harrow Deluxe, Hi-Flash, Hong Meow, Justen, Lina, Lina S, Mark L, MegoMatic, Merit, Mirage, Panax, Photon 120, Pioneer, Pokey, Raleigh, Rand, Reader's Digest, Reliance, Rosko, Rover, Samtoy, See, Shakey's, Sinomax, Stellar, Stellar Flash, Tina, Traceflex, Tru-View, Valiant, Windsor, Zip & Zodiac are just some of the clones I've found.
Production of the original Diana gradually stopped in the 1970's but a new version, the Diana+ and Diana F+ are currently produced by Lomography. Available here
THE HOLGA
Specifications
Film Format: 120 Medium Format
Lens: 60 mm Multi Element Plastic Lens
Aperture: f/8, f/11
Shutter: Rotating Lens Shutter 1/100 ~ 1/125 & Bulb
Focus Modes: 4 Step Zone Focus
The Holga and Diana share the same birth place. It was presented to the masses by Universal Electronics Ltd. from their factory in Kowloon. The name is derived from the Cantonese term "hol-gon" meaning "very bright". The idea behind the camera was to make medium format photography, which was massive at the time, available to the working class.
Like the Diana, the Holga was as unpredictable as my iPod on shuffle. People grew to love its dodgy shutter speeds and aperture, its dreamy focus, its fickle colors and light leaks.
Interesting Fact! Industrial designer Saikat Biswas made a prototype of a digital Holga which looks utterly amazing! Unfortunately no real plans have been made to take this into production. You can check it out here.
The whole gamma of Holga cameras is available trough Lomography. Check it out here.
THE LOMO LC-A
Specifications
Film Format: 35 mm (135)
Lens: Minitar 1 32 mm
Aperture: f/2.8
Shutter: 1/500 to 2 Minutes
Focus Modes: Manual, 4 Step Zone Focus
Exposure Meter: CdS Light Meter
ISO: 25-400
Batteries: 3 x S76
Based on the Japanese made Cosina CX-1, the Lomo LC-A went into mass production at the Lomo PLC factory in Russia, somewhere around 1984.
Originally intended as an automatic camera for the Soviet masses, the LC-A was rediscovered by two marketing students from Vienna in 1991. They were astounded by its vivid colors and its performance in low light situations. So astounded they founded the Lomographic Society in 1992. They promote Lomography around the world and even have a set of golden rules.
Take your LOMO everywhere you go.
Use it anytime, day or night.
Lomography is not an interference in your life, but a part of it.
Shoot from the hip.
Approach the objects of your lomographic desire as close as possible.
Don't think.
Be fast.
You don't have to know beforehand what you've captured on film.
You don't have to know afterwards, either.
Don't worry about the rules.
Like the Diana, the LC-A was copied as well. Amongst others are the Petri PX-2, Porst CM-135 and Praktica CX-1.
Lomo PLC stopped the production of the LC-A in 2005, but Lomography produces an almost identical copy known as the Lomo LC-A+. Available here.
DIRT CHEAP LENSES FOR YOUR SLR
For those who like the effects but don't want to hassle with film and development, there are some alternatives. It won't give you any light leaks or erratic shutter behavior but still very fun to play with!
The good people at Lomography have made a Diana F+ Lens Adapter for both Canon and Nikon cameras making it possible to attach any Diana F+ lens to your SLR.
And holgadirect.com sells Holga lenses for Canon, Nikon, Olympus, Pentax and Sony SLR's, plus for the Olympus PEN, Panasonic Lumix G, Sony NEX and Samsung NX.